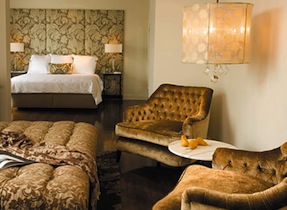 The International House is just a short walk from New Orleans' French Quarter. The hotel is set in an old Beaux Arts bank building in the city's Central Business District (CBD) and its grand lobby has beautiful chandeliers and classic columns—but throughout the property, the hotel's décor is more contemporary luxury than Old New Orleans.
There are 117 deluxe rooms, 15 superior rooms and two suites. Guestrooms feature books about the city and black-and-white photos of local musicians. Free Wi-Fi, IHome stereo, cable TV and waffle-cloth robes are also included in each guestroom. Spa-style bathrooms have large tubs and glassed-in showers. Deluxe rooms start at $99 per night.
You don't have to just hang in your room at the International house. Swing by the Loa Bar (named after Voodoo's divine spirits) for a beverage or nosh at La Rambla, with its French and Spanish menu. Need to work off the luscious foods and beverages of the Crescent City? Just pay a visit to the hotel's fitness center, with Cybex bikes and Precor elliptical trainers. But don't work too hard. New Orleans residents love people who jump right into the daily celebration.
International House, (504) 553-9550
221 Camp Street, New Orleans, LA 70130
Photo courtesy of International House
More New Orleans-related information:
Soniat House: New Orleans Romantic Retreat
Royal Street Inn & R Bar: The Way to Experience New Orleans