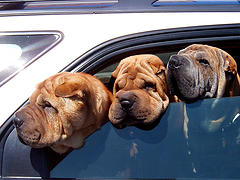 Want to bring your best friend to a casino with you? If your best friend has four legs and a tail, there's only one casino in Atlantic City that will welcome you both with open arms.*
On Thursday, Februrary 24, 2011, Showboat Atlantic City will become the only casino hotel on the Jersey Shore that welcomes pets with the launch of Pet Stay Atlantic City.
"We're thrilled to bring Pet Stay Atlantic City to our guests and provide the royal treatment to man's best friend," said Joe Domenico, Senior Vice President and General Manager for Showboat and Bally's Atlantic City. "This initiative puts Showboat at the forefront of Atlantic City's world-class offerings and will bring more customers to our casinos without having to leave their pets behind."
What does the royal treatment look like to a dog?
For starters, special pet-friendly rooms have been set aside in the New Orleans Tower that will include pet treats, food and water bowls, a doggie mat, and disposable waste bags. On March 3rd, pet owners and canine guests will be invited into the casino's Club Harlem for a special party with free drinks for everyone.
Pet Stay Atlantic City is only available to dogs weighing 50 pounds or less and guests are limited to two dogs per room. During the first two weeks of the program, the package will be offered for free. However, after the initial promotional period, guests will pay $40 per night.
*Pups are only allowed in the hotel area, which does not include the gaming floor.
Check out a list of other pet-friendly hotels around the country.