How can you score a hotel room in Manhattan for less than $100 per night?
Check into one of New York City's tiniest hotel rooms.
There's really no such thing as a "spacious" hotel room in Manhattan, but micro-hotels like The Jane Hotel take scaling down to an extreme with rooms measuring as little as 50 square feet. Within those few feet, guests can expect to find a bed, a phone on the wall, and a shelf above the bed to store luggage. Personal hygiene must be taken care of in the communal bathroom down the hall. If you need a little more space and a bathroom of your own, The Jane offers 50 rooms that boast 250 square feet of lodging space for about double the price of the standard mini-room.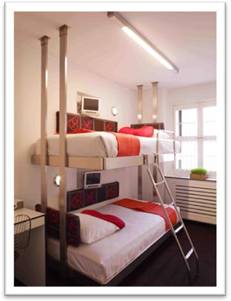 Across the island from The Jane's Far West Village location, The Pod Hotel offers "pod rooms" in East Midtown with about 99 square feet of space for as little as $85 a night, a rate that includes free WiFi. You can get your own bathroom for just $10 more per night. While The Jane's rooms tend to be decorated in dark paneling that could make the claustrophobic traveler feel like they were confined in the hull of a ship, The Pod's decor is bright and modern, a better match for the "broke but hip" crowd.
The idea of micro-hotels might seem crazy, but it's actually spreading. On April 15, the new Yotel Time Square will open in the famed tourist district and become the chain's first micro-hotel in the United States. The Yotel rooms will be about 170 square feet and cost guests just over $200 per night. Yotel has enjoyed success with the pod-like rooms in its properties in Europe, including a location in London Heathrow's Terminal 4.
Would you consider staying in a room with less than 100 square feet of space if it only cost you $85 per night to stay in Midtown Manhattan? I've certainly payed a lot more money for not much more usable space, and the size of my hotel room is rarely a major concern when I'm visiting The City That Never Sleeps.
Photos provided by NJFPR