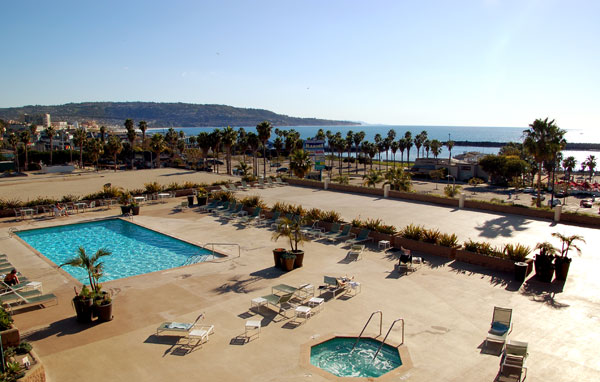 Southern California may be best known for red carpets and movie stars, but there's more to see than celebrities, especially if you're traveling with kids who aren't unlikely to dazzled by the sight of fame in over-sized sunglasses and a trucker hat. Take advantage of a spring special from a beach-side hotel in Redondo Beach and take in larger-than-life sights of the sea.
Crowne Plaza Redondo Beach & Marina Hotel is a business class hotel in the small beach town of Redondo Beach west of Los Angeles. You're unlikely to run into anyone famous in the lobby, but the clown fish in the aquarium by registration bears a striking resemblance to Nemo.
The Crowne Plaza doesn't quite live up to its advertised "resort" title, but it is a comfortable hotel with spacious rooms and balconies overlooking the Pacific Ocean. Better still, access to that ocean requires just a short walk across the street and down the pier, making the hotel a perfect home base for a Pacific vacation.
Activities within walking distance include:
Whale watching tours
Paddle boat rentals
Surfing
Shopping on the pier
Eating fresh caught seafood
Swimming in a unique sea lagoon
Guests at Crowne Plaza can receive a discount on whale watching tours, as well as bike rentals and day passes to the Gold's Gym next door. On site, enjoy a heated pool and Jacuzzi tub, perfect for cool spring nights.
Rooms at the Crowne Plaza in Redondo Beach start at $99 a night.