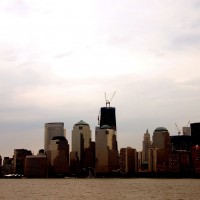 A trip to New York City is a never-ending choose-your-own adventure opportunity. Everything from your ride into Manhattan to your choice between street cart or world-famous restaurant is a a chance to enjoy a uniquely Big Apple experience. Your hotel is the backdrop that sets the tone for your New York story. Should you begin your tale in a chic boutique or at a respected chain?
Be a Native New Yorker at New Boutiques
If my inbox is any indication, developers are snapping up abandoned retail and office spaces and converting them into guestrooms faster than you can say "late checkout, please." New hotels with amenities as hip as their names (you can borrow a skateboard from The Nolitan) appeal to a wannabe-urban clientele and provide a chance to live like a New Yorker for a weekend without any risk or roommate hunting.
The decor tends to be contemporary to the extreme, as much a design decision as an attempt to disguise the painfully small size of a typical room; tiny rooms seem to add authenticity to the New Yorker experience. Instead of offering state-of-the-art fitness centers, boutiques like The Library in Midtown provide guests with complimentary day passes to nearby private fitness clubs where tourists can break a sweat next to real live Manhattanites.  You won't find a boutique hotel within 2 blocks of Central Park, but you can find properties like Hotel Giraffe boasting easy access to Chelsea. If your must-do list for your next NYC vacation includes deli bagels for breakfast and an afternoon of people watching in Union Square, check into a Manhattan boutique hotel to set the scene.
Stay as a Welcomed Guest with Familiar Names
Do your big city fantasies involve a show on Broadway and a carriage ride through Central Park? Are you more interested in Barney's than bagels? New York City welcomes more than 40 million tourists each year, and there's no shame in happily being one of them. Be pampered like a guest at hotel chains that long ago secured the best locations in town.
The Ritz-Carlton Central Park sits directly across the street from Central Park and a few short blocks from the most popular Midtown tourist attractions. You can't rent a skateboard here, but you will have room to spread out in large guest rooms and views worthy of a postcard mailed home. While you certainly can grab a bagel from a deli around the corner, you can also indulge in a gourmet snack in the Club Lounge at any time of day. No one here is new to the game, so expect expert touches like a crystal ring holder beside the bathroom sink. Similarly, The Hilton New York won't get you into the NY Sports Club, but you can host a meeting onsite; you can also hit the in-house fitness center without traveling farther than the fifth floor.
When you visit a boutique hotel in New York City, you get the feeling that you're staying with a friend who's showing off their new Manhattan apartment. If you're lucky, you can imagine yourself moving in with that friend after a night or two. The big chain hotels don't have the hip edge or the competitive pricing of the new kids on the island. Instead, they offer a sense of security that comes from staying with the people who set the standards for New York luxury in the first place.