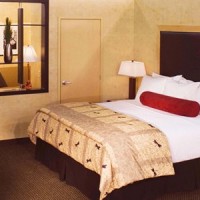 I love all-suites hotels. You don't need a special upgrade or media credentials to get a great room with plenty of space. You know when you check in that every room is going to be a suite. I was excited when my girlfriend gave my husband and I a gift certificate for a free night at the new all-suites hotel in Pittsburgh.
Cambria Suites is attached via parking garage to the new CONSOL Energy Center (home to the Pittsburgh Penguins), which I'm sure makes it convenient for anyone coming into town for a hockey game. It is not conveniently located near any other major Pittsburgh attraction and is just outside the downtown district and away from major bus routes. Here for a game or have a rental car? You'll be fine.
Location issues aside, Cambria Suites is a beautiful hotel that lived up to my expectations as an all-suites property. Our king standard room included a large living area, plenty of space to work (which I happily ignored), and the most important feature of any hotel room: ample outlets for charging electronics.
The bed was comfortable, too.
The bathroom gave me pause. The modern design featured a shower with no shower curtain or sliding door. Half the shower was enclosed with a glass wall and the other half, the part farthest from the shower head, was open. Another design oddity included having the faucet for the shower on the wall opposite the shower head, eliminating the early morning cold water screams. While that design decision was brilliant, I'd love to hear the logic behind an open shower stall in a hotel bathroom.
Photo: Cambria Suites