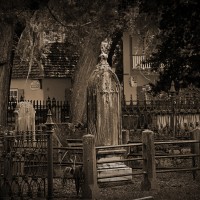 The floors creek, doors slam, and locals swear that was a ghost you saw walking down the street last night. Sound like a perfect Halloween vacation? Then you'll love these scary hotels in some of America's most haunted cities.
St. Augustine, Florida
America's oldest town prides itself on having spooky residents around every corner. Take a ghost tour before settling in for the night at The Casablanca Inn, where you might spot a lantern waving back and forth courtesy of the original owner who used the lights to signal bootleggers when law enforcement came around. The Ponce de Leon Hotel is also said to be haunted, but you can only spend the night here if you're a registered college student as its now part of Flagler College.
Savannah, Georgia
Southerners love their ghosts and Savannah is no exception. For your best chance at coming face to face with a ghost, check in to Olde Harbour Inn, home of the popular and often-spotted Hank. East Bay Inn claims to host a ghost named Charley and swears a guest photographed the spirit in 2001.
Salem, Massachusettes
With a history of witch trials, it's no surprise that this New England town attracts ghost hunters year round. For a particularly harrowing Halloween, book a night at Hawthorne Hotel. Nathaniel Hawthorne wrote the Scarlet Letter here and today there is rumors about a haunted elevator. The Salem Inn is also believed to be haunted – past guests report mysterious toilet flushing, oh my!
Photo Britt Reints