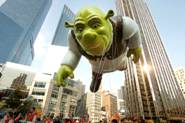 The Macy's Thanksgiving Parade is one of the most popular parades in the country, watched by millions on TV. But wouldn't it be great to see it live and in person from New York City?
All you have to do is make your way to NYC and get up at the crack of dawn to get yourself a spot along the parade route, then stand for hours elbow to elbow with a crowd of restless strangers. Want the live experience without the pre-dawn wake-up call? Head to a Manhattan hotel.
As of this posting, Sheraton New York Hotel & Towers on 7th Avenue and 53rd Street still has rooms available along the parade route for November 24th, with standard guestrooms starting at $750 (hey, a tradition like this is going to cost you!). To book a room for the parade, call 212-581-1000and make sure to ask for a room facing 7th Avenue.
The W Times Square also had parade view rooms available, but there's only one person in the hotel who can handle these specific reservations. Call 212-930-7441 and request to speak with Sherry. (Rumor has it that next year's parade won't go by Times Square, so this could be your last chance to see the parade from here.) Check out a few less expensive options over at the Lodging blog.
When the parade has passed you by, take advantage of some of the best shopping in the world on 5th Avenue, or head down to Chinatown for something a little more unique. Other holiday favorites in the city include visits to Radio City Music Hall and Rockefeller Center.
Photo courtesy Sheraton New York